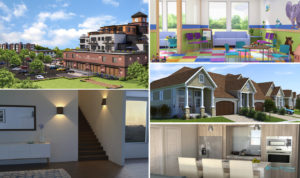 Being a successful architect isn't just about the quality of your ideas or the strength of your designs; it's also about how you present them. Whether you're designing residential homes, commercial buildings, or any other kind of structure, helping potential clients visualize your creation can mean the difference between moving forward on a project or relegating it to the trash bin. So how can you be sure you'll make a big impression at your next presentation? The answer is simple: with a 3-D architectural rendering from Pixel Perfect Studios in Philadelphia, PA.
What is a 3-D Architectural Rendering?
There are many different ways architects have visualized their projects for clients in the past. It can be as simple as presenting a blueprint; in other cases, 2-D illustrations have been used to give potential clients a sense of how the completed project will look. Three dimensional foam core models and dioramas have even been used. Of course, we now live in the 21st century and utilizing these outdated methods can make you look a bit uninspired. 3-D animation and Virtual Reality is the wave of the future and it's time to leave those old fashioned techniques in the past. These days, clients want to be able to see your vision in three dimensions and get a sense of what it would be like to live or work in that space.
With a 3-D Architectural Rendering, you can achieve those goals while showing prospects you're serious about making your ideas a reality. With a 3-D rendering from Pixel Perfect studios, not only can you present your idea in vivid detail using a photorealistic computer mock-up, but clients can also virtually tour your building and even play around with paint colors, materials, furniture, and more. To impress clients these days, you need to show them something that will set you apart from the crowd and a 3-D architectural rendering is the perfect way to accomplish that.
Building Your 3-D Architectural Rendering
What's an architect to do when they need to show clients a building that hasn't been built yet? Our talented team of designers will take files like 2-D Floor Plans and make them a (virtual) reality using the latest in 3-D computer rendering technology. Once the basic structure has been built as a 3-D model, you can give your input and select from thousands of colors and textures to create the look you want. You can even stage your rendering with furniture and décor that reflects the latest trends. Your clients and prospects will be blown away when they see the level of detail in that can be achieved with a 3-D rendering.
Getting Started
Our design team is waiting to hear from you! If you're interested in harnessing the selling power of detailed 3-D architectural renderings, drop us a line by email at info@pixelperfect-studios.com or give us a call at (215) 568-8380. You can even upload your files right here on our site for a free quote. Don't get left behind; get started on creating your 3-D architectural rendering today!