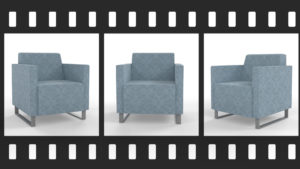 Is your marketing stuck in two dimensions? Today's consumers need something eye-catching to keep their attention and static pictures just don't cut it anymore. Luckily, Pixel Perfect Studios is here with a range of 3-D modeling and animation applications that can take your marketing into the 21st century! Here are some of the ways in which we've utilized 3-D modeling and animations to help our clients reach the next level:
3-D Product Animations
Static pictures and diagrams are just… boring. Add some visual interest to your product demonstrations with a 3-D product animation from Pixel Perfect Studios! Our 3-D product animations can be the perfect tool for your sales staff to utilize when speaking to potential clients or customers. Imagine having a visual aid on hand, complete with information about features and selling points – everything that makes your product tick, inside and out. Our animations can be custom tailored to show off the specific features you want to highlight, giving sales staff something to work from as they as they close the deal.
3-D product animations also make an excellent training tool to help your staff familiarize themselves with your products. You can design an entire sales pitch in stunning 3-D graphics that will keep employees engaged and ready to soak up some knowledge. Our clients have found that when staff members are all trained using the same 3-D animation, they're able to represent their brands more consistently and communicate more effectively with potential customers. 
3-D Architectural Flythrough
We've written before about our interactive 3-D architectural tours, but did you know they could be animated as well? While interactive architectural renderings are perfect for showing properties on a website where potential buyers can browse at their own convenience, they may not work so well when making an architectural presentation during a meeting. In these cases, a 3-D flythrough may be more effective. Not only will we use cinematic camera angles and transitions to showcase your work in dramatic fashion, but a 3-D architectural flythrough animation will leave your hands free to point out specific features and engage with your audience while they watch.
The Sky is the Limit!
Of course, those are just two of our most common applications for 3-D animation; what Pixel Perfect Studios can do is limited only by the human imagination. If you've got a product or a project that you feel could be enhanced by 3-D animation, we want to hear from you. Our design team will speak to you about your goals and recommend an animation that will make your ideas pop. And if you're technologically challenged, don't worry; our team has years of experience that will help them take whatever's in your head and render it in a breathtaking, realistic, three dimensional animation.
You can contact us by phone at (215) 568-8380 or by email at info@pixelperfect-studios.com. You can also look for us on social media on Instagram, Twitter, Vimeo and LinkedIn. Make your ideas a (virtual) reality with Pixel Perfect Studios; we're excited to hear from you!